If you want to know more about the definition and the benefits of hypnagogic lights we explain everything in this article.
Warning: some owners of these technologies claim effects that do not correspond to reality (exits outside the body, modification of DNA, etc.) we hope that this article will help you better understand its real benefits.
What are the benefits of roXiva Rx1 ?
RoXiva is a novelty in the sphere of Hypnagogic lamps. Although its use is becoming more democratic, customer reviews are still rare. For the sake of transparency, we share with you the feedback we have collected from practitioners and individuals who have already tested this lamp. Non-exhaustive list of the benefits of roXiva Rx1:
Meditation
Stress relief
Hypnotherapy
Personal and spiritual development
Pain relief
In 2016 we created a Facebook page (ONLY IN FRENCH) for sharing hypnagogic experiences. We invite all curious to read the opinions and feedback. Do not hesitate to seek help or advice from this community if you have any questions.
The Roxiva Rx1 lamp – Technologies and features
An optimized experience for all users
RoXiva RX1 offers a range of features that are easy to configure and experience. With its automatically updated programs, you are sure not to miss anything new.
The advanced sessions tool allows you to create and customize yourself the program that suits you or simply, to choose from a catalog [in constant evolution] the rhythms and light shows that suit you best.
How a roXiva session unfolds
If you carry out this session with a practitioner or owner of a roXiva lamp, you will be invited to discuss with him your goals and the type of experience you want to live. He will then adapt the lamp program so that the experience is as beneficial as possible. Lying comfortably in a place sheltered from lights and noise pollution, let yourself be guided by the sounds and lights for a program ranging from 30 minutes to 1 hour.
What differences with other lights on the market?
Unlike other lamps, half of roXiva's programs have associated music which can be obtained by plugging headphones into the lamp's jack. The roXiva lamp is the most recent hypnagogic light currently on the market. Developed during the year 2020, it benefits from the very best in terms of technologies and functionalities and fully deserves its place alongside Lucia N3, Lucia Home Portal and PandoraStar.
Our advice : before buying a hypnagogic light, we advise you to try each one of them to make sure you equip yourself with the lamp that suits you best. Statistically, apart from the price aspect and over 4 months of use: 1 in 2 people will prefer the Lucia home portal, 1/4 will prefer the PandoraStar lamp, and 1/4 the roXiva RX1 lamp .
Where and how can I try Roxiva Rx1?
Whether you are curious about its effects or have decided to purchase it, we invite you first to try the roXiva light:
In 2021, roXiva Rx1 sessions will take place under the Pyrenees-Orientales sun (south of France) or during national and international meetings.
Book an appointment in Toulouges (66 – FRANCE)
Address: 14 Allée des Garrotxes
66350 TOULOUGES
FRANCE
Reservation only by phone
Group meetings in France, Belgium and Switzerland
To participate in the meetings, go to Marc Aubrun's website and Book a meeting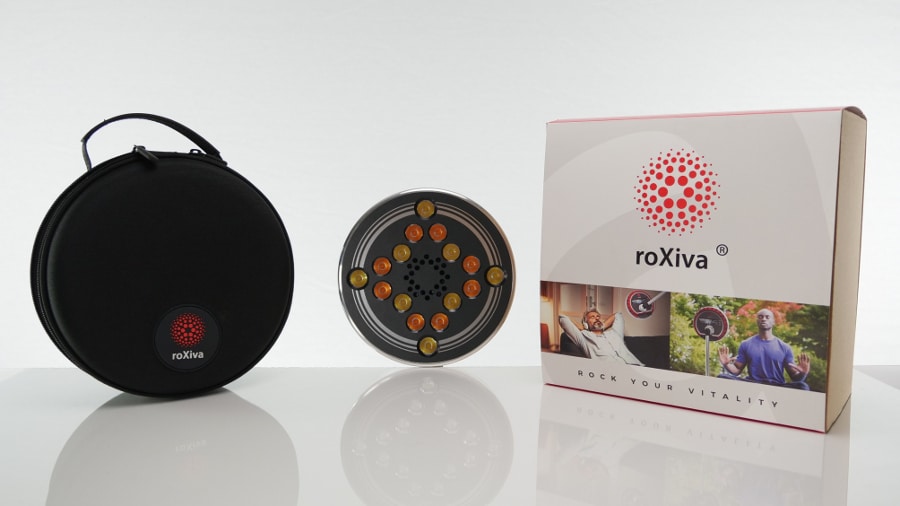 Currently in Europe, lucialight.fr is the largest European distributor of hypnagogic lamps. Since 2016, we have been selling these technologies with full knowledge of the facts, knowing their effects perfectly and not making fallacious remarks about benefits that do not exist.
Our site offers you a fast shipment and an after-sales service rich in the many years of experience in selling hypnagogic lamps.