In practical terms, what is a PandoraStar light?
PandoraStar is a lamp using a technology of 12 LEDs which emit light variations of the symphonic (or stroboscopic) type. Often associated with psychedelic projections, this hypnagogic lamp provides a feeling of well-being induced by its intense white light play. The kaleidoscopic effect of the PandoraStar lamp plunges its viewer into a deep meditative and relaxing state. With your eyes closed, comfortably stretched out with a music of your choice (although the lamp also offers integrated playlists) you let yourself be lulled by one of the multiple light programs offered by its software. The duration of the experience depends on the chosen program. More regular users will be able to create their own personalized program with the integrated authoring interface.
This lamp can be used daily without risk, at home or at a practitioner.
PandoraStar is suitable for all types of audiences, however it is not recommended for people with epilepsy. To learn more about the contraindications of hypnagogic lamps, we invite you to read this article.
What are the Benefits of this hypnagogic light?
Since 2017, Lucialight.fr has been marketing and offering trial courses for the PandoraStar light. The benefits listed below are all based on feedback from our customers and users. Whatever your goals, we invite you to experience the PandoraStar lamp for yourself before purchasing it:
Deep meditative state
Relaxation
Improved cognitive abilities
Expanded state of consciousness
Feeling of well-being that can last for several days
PandoraStar light : What justifies its price?
The price of PandoraStar is 5,400 € taxes included.
PandorStar is the result of many years of research. Based on the observation that photo-neuronal stimulation had a positive impact on cognitive functions, the development team looked at a portable solution that was less restrictive than its big sister Lucia N ° 3 Practiconner. Although less expensive, the PandoraStar light is nonetheless a technological gem. The power of its LEDs combined with the flexibility of its programs offer its buyers a new neuro-psychological experience that is difficult to match!
Where and how to try the PandoraStar light ?
Before you decide to buy a PandoraStar, we invite you to get closer to our partner! You will find below the multiple solutions available to try this lamp!
In 2022 the hypnagogic sessions with PandoraStar will take place in Pyrénées-Orientales (FRANCE) or during monthly events (France, Belgium, Switzerland, Spain…).
Book an appointment in Toulouges (66 – FRANCE)
Address: 14 Allée des Garrotxes
66350 TOULOUGES
FRANCE
Tel: +33 (0)7 68 20 01 33
Reservation by phone only
Collective meetings throughout France, Belgium and Switzerland 
To participate to the meetings , go to the Marc Aubrun website: meetings
Where can I buy PandoraStar?
Price of PandoraStar : 5400€ VAT included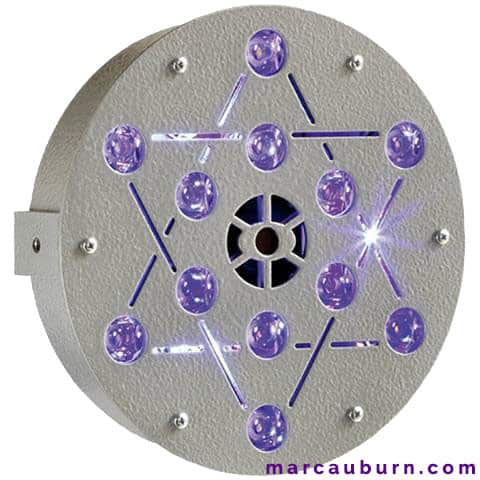 Currently in Europe, lucialight.fr is the largest European distributor of hypnagogic lamps. Since 2016, we have been selling these technologies with full knowledge of the facts, knowing their effects perfectly and not making fallacious remarks about benefits that do not exist.
Our site offers you a fast shipment and an after-sales service rich in the many years of experience in selling hypnagogic lamps.